Almond oil for skin has so many uses you almost need a map, and this article will serve as that map for you. The golden liquid has numerous benefits, is completely natural, and relatively cheap—so let's go!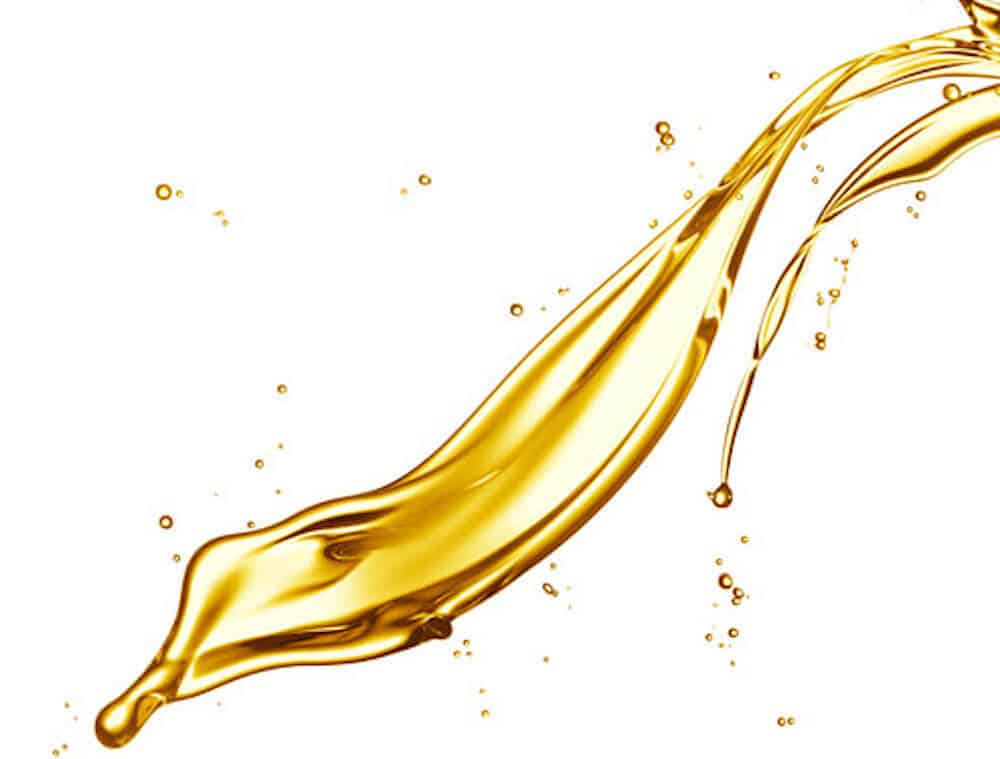 If you don't already have a bottle of almond oil in your bathroom cabinet, get one now. It has the power to do some great things for your skin. Keep reading for exactly how to use this skin care beauty in nine different ways.
Almond Oil for Skin Benefits
Before we begin: the best oil to use for therapeutic and skin care purposes is cold-pressed refined sweet almond oil. Recommended brand at bottom of page.
Almond oil is noncomedogenic, so won't clog pores. This makes it great for use on your face without worries about causing blackheads or blockages. Great for dry acne prone skin
High in vitamin E and Omega 3 fatty acids, this nut oil is a great emollient and lubricator for dry skin. Vitamin E is nourishing and healing, your skin loves it. Great for anti aging concerns
This is an oil easily used under makeup as it's non greasy. Just give it a few minutes to absorb
**Don't use almond oil on your skin if you're allergic to nuts…
It's one of the cheaper oils and will last a long time
Almond oil doesn't have much of a scent, so is great for those of use with sensitive noses or allergies. This also makes it a great carrier oil
9 Ways to Use Almond Oil for Skin Care and Beauty
1. A Simple Moisturizer—all over
Use almond oil all over your body and face night and day. Or just use it as a "nightly hydration treatment." Especially on your face, use it nightly for an anti wrinkle massage that will also help nourish and lift your skin
2. Nightly Hydration Treatment
You can do this on your face and body, but it works especially well on dry body skin (you might want to use more targeted products on your face). Massage almond oil into your arms, legs, shoulders, stomach, everywhere, then apply a basic thick moisturizer over top.
You might need a few minutes to "dry out" before putting your pajamas on, but this nourishing treatment will ensure you wake up with incredibly soft skin. It can also heal extremely dry skin in a few days, so add this to your nightly skin care routine.
3. Use it as an Oil Cleanser
Oil cleansing can help balance oily skin. Start with dry skin and massage a small amount of oil into your face, it will start breaking up any makeup, skin oils, and grime from the day. Use your normal cleanser to thoroughly remove the oil and all the grime with it.
Or, if you have sensitive or dry skin, simply remove the oil with a warm wash cloth. This is a great method to keep your skin clean and hydrated.
You might like: How to Use Peppermint Oil for Plump Lips
4. Protect Your Body Skin from Dehydration
An overlooked cause of dry skin is the humble hot shower. Beautiful hot showers, especially long ones (and who doesn't love those), strip the skin of moisture/water and dehydrate it. This can lead to dry rough skin or even irritation and cracking.
Rather than avoid those wonderful showers or turn them into 5minute cold ones (ugh!), massage almond oil all over before stepping in. This helps prevent moisture from evaporating from your skin. You will still get clean, but it won't be that over-cleaned, tight feeling anymore. This is almost mandatory for hot baths too!
See also: How to Use Olive Oil for Dry Skin
5. Makeup Remover
Sweet almond oil is gentle and fine to use around the eye area. Massage a small amount straight onto your eye makeup with your ring finger. This will break up the oils in the makeup and leave you with panda eyes—but this is a good thing!
Now it's easy to cleanse off with Micellar Water, a gentle makeup remover, or a warm wash cloth. This is also very hydrating for the eye area and good for eyelashes. By avoiding too much of even gentle makeup removers you can help keep this area younger looking.
Plus, a small amount of almond oil applied with a Q tip is an easy way to clean up mascara or eye makeup blunders.
See also: How to Use Vaseline for Eye Wrinkles
6. Give Your Skin a Glow
Simple. Dab a tiny amount of oil over your moisturizer/makeup, on top of your cheekbones and anywhere else you want naturally glowing skin. This makes your skin look hydrated, plump, youthful and gorgeous.
7. Hard Shiny Healthy Nails
Massage almond oil into cuticles daily. Keep a small bottle by your bedside and remember to massage in nightly. Within a few days you will notice the skin around your nails no longer peels, cuticles stay tidy by themselves, and your nails just look good.
See also: Beauty Tips Worth Listening To
8. Nourish Eyelashes and EyeBrows
Apply a very small amount nightly to your eyelashes (with a Q tip) and eyebrows. The vitamin E and protective properties of almond oil will nourish these hairs to help prevent breakage and fall out.
9. Soothing Sleepy Time
Almond oil is the perfect base for beautiful essential oils. Mix with one or two drops of your favorite pure oil, like lavender or jasmine, and massage into your shoulders, chest and feet at night. Then let the scent welcome you into a beautiful sleep (with soft skin).
Almond Oil Product Recommendations
Now you're convinced of your new skin care staple, here is what to look for and how to get your hands on the right stuff.
Almond oil that has been cold pressed and refined for purification is best. Organic isn't necessary unless you prefer to use it: organic is usually darker in color.
1. Nature's Leaf Sweet Almond Oil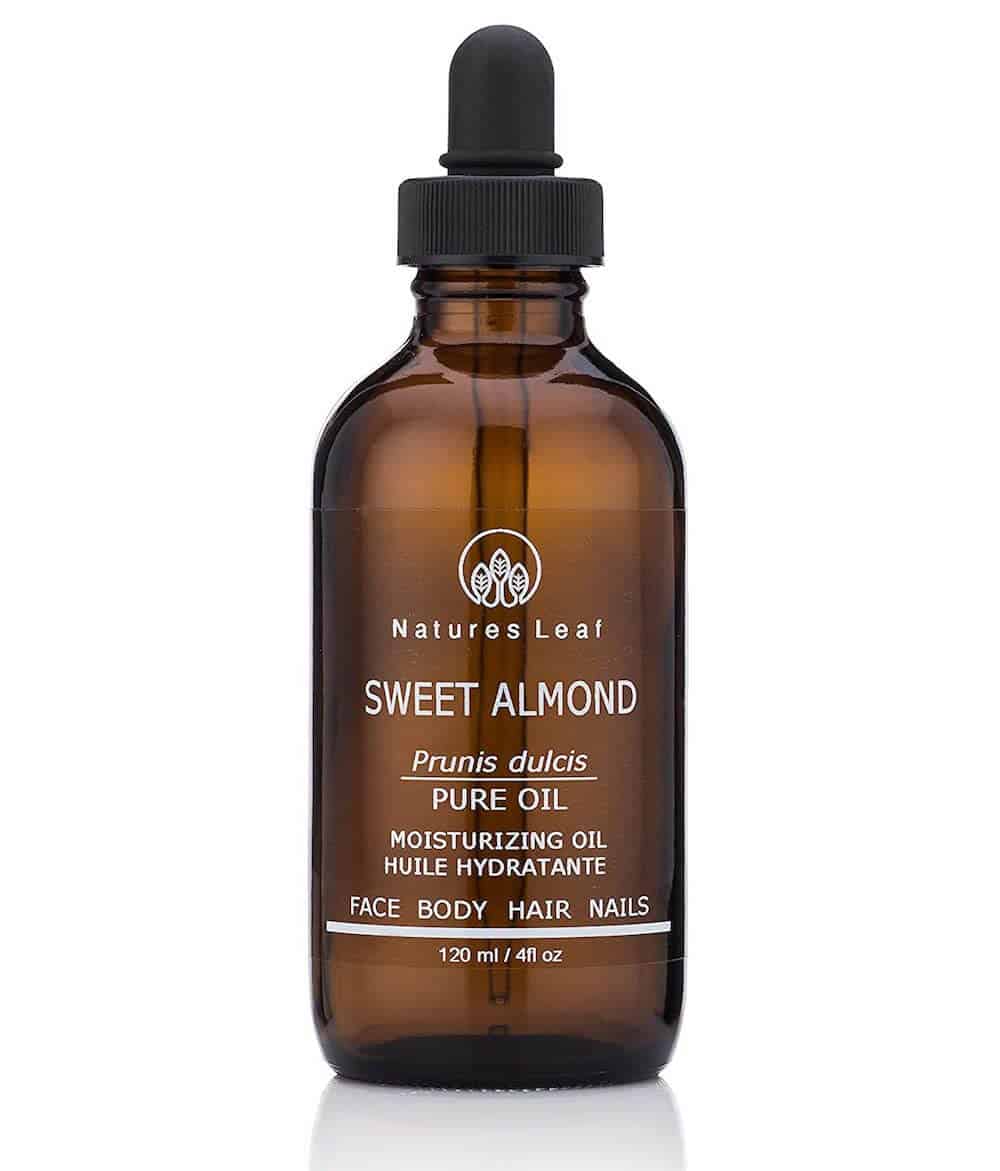 Cold-pressed and comes in a nice dropper bottle. This is a pretty one to keep on your bathroom cabinet (which helps remind you to use it!). See Natures Leaf Oil here.
2. NOW Solutions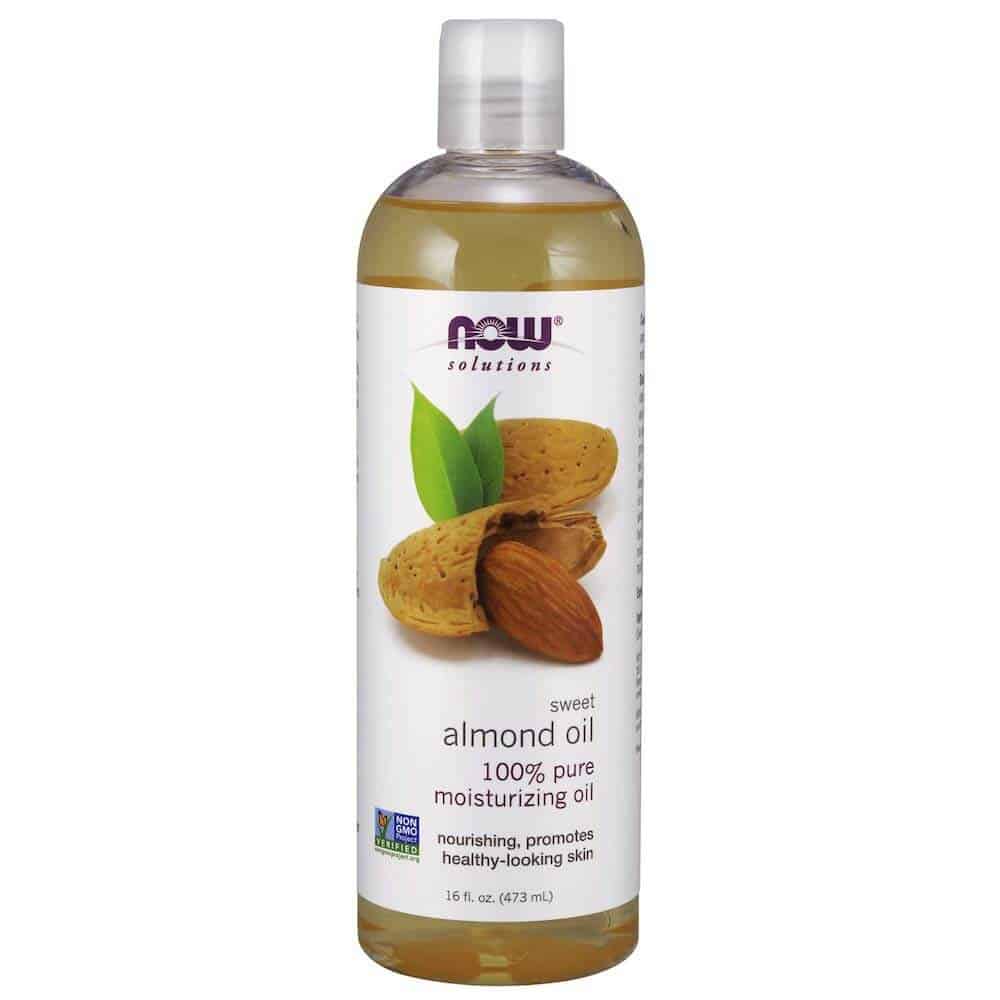 Not as pretty, but still as good. This is a bigger bottle that will serve you will as an all over moisturizer. See NOW Solutions Oil here.
Other Places to Buy it:
Most supermarkets, pharmacies, and healthcare stores carry almond oil. Most products marketed for skin care are cold-pressed and refined, so you really can't go wrong!
Bonus Almond Oil Uses:
Here are a few more tips to end with:
Use it as a hand moisturizer, then run your fingers through your hair to tame frizzes
Replace those expensive skin oils in your beauty cabinet with almond oil and just use it the same way. A lot of them are simple oils with extra "special" expensive ingredients anyway—ingredients that do more for the label than your skin (Jasmine oil is one of the most expensive. It smells wonderful, but costs a penny)
Massage daily into dry cracked heels before putting on your socks. This will help toughen that soft skin in a matter of days.
Use as a soothing application after hair removal. The oil helps break up left over wax which can then be removed easily from skin