How-To Guides
How to Get Rid of Oily Skin Instantly and Long Term
Blotting your face every hour? This page will show you how to get rid of oily skin and control shine on a daily basis as well as long term.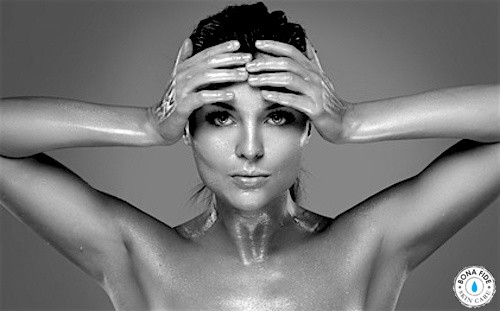 Ugh. The daily "11am shine" doesn't have to be your fate any longer. By controlling oily skin your days will be easier, and it will help prevent pimples, blackheads and acne.
Tips and details about how to prevent oily skin in this article.
Part 1 – How To Stop Oily Skin Today
There's no denying that getting rid of the immediate symptom of oily skin is important. Life is just easier when you don't have to continually blot or worry about your shiny nose.
The more oily your skin, the more prominent blemishes like pimples and blackheads appear, so dealing with it makes a huge difference!
Use the tip below on a daily basis or when needed. It helps give instant results when needed, while you are dealing with the problem for long term results.
You might like: How to Treat Oily Dehydrated Skin
Keep Your Skin Matte With Milk Of Magnesia
Normally used as a laxative or antacid…. Milk Of Magnesia is also a cheap, simple and effective solution for oily skin. You can usually find it at a pharmacy or some supermarkets.
How to use it to keep your skin matte all day:
After cleansing, apply a small amount of Milk Of Magnesia to oily areas with a cotton ball (usually the nose and/or T Zone, avoid drier areas like the cheeks unless needed)
You can apply foundation or powder over top as it will help it to stay on skin
If you see a white/chalky film you've likely applied too much. Only a very thin layer is needed, so you may like to wash it off and start again
This is a simple and extremely effective solution in dealing with oily skin instantly. It often works better than specific make up primers, so give it a try!
Now, let's look at what you can do to treat and prevent oily skin for good.
Part 2 – How To Prevent Oily Skin For Good
This is about actively preventing oily skin, not just controlling it or temporarily covering it up.
Your skins oil production needs to be rebalanced, which is definitely possible with the right products.
Here's how:
1. Salicylic Acid – a must for oily skin
Salicylic acid is oil soluble, so it can penetrate deep into pores to dissolve oil and dead skin cells.
With consistent use this action normalizes oil production, clears up breakouts and blackheads, and helps refine the appearance of enlarged pores – so common with oily skin:
The easiest and most effective way to use salicylic acid is on a daily basis with our Salicylic Daily Exfoliator 2%
With the highest percentage available over the counter, and no other ingredients to 'water it down', you will see instant results and long term change
Apply it in the evening as part of your nightly skin care routine (once skin has built up tolerance) after cleansing, and follow with an oil free moisturizer
It also helps clear and prevent blackheads and pimples, brighten your complexion and smooth your skin
See details and reviews about our Salicylic Daily Exfoliator 2% here
Using salicylic acid will get you well on your way to rebalanced, clear, smooth skin. The next tip is an easy way to speed up oil control and clarity:
2. The Power Of A Clay Mask
Using a clay mask 2 -3 times weekly will deep cleanse pores, soak up oil and help prevent breakouts. It works so well it can be a real relief to apply – skin is instantly smooth and matte afterwards, and makes you feel fresh:
Benzonite Clay is the oily skin saviour, working like a magnet to draw out impurities
Apply only to oily areas such as the nose or T Zone. It's a nice idea to apply a hydrating mask to your cheeks at the same time for an overall skin treatment
Regular use of a clay mask 2 or 3 times a week will go a long way in helping to prevent oily skin
3. Make Sure Your Moisturizer Is Correct!
All the right cleansing, exfoliating and masks are wonderful. But remember, your moisturizer goes on last and stays on your skin, so it has a major influence.
The wrong moisturizer can negate the effects before – causing blocked pores, greasiness and blackheads.
This is an often overlooked fact, especially if you have 'combination skin' and like to use a heavier cream to prevent that tight, dry feeling on certain areas of your face.
How to deal with it:
If your skin is combination, use a good oil free moisturizer all over, and apply a heavier cream to dry areas only. These areas then get double the hydration and protection benefits
Do not skip moisturizer, ever! Moisturizer has an important protection role to play – if you've been skipping it due to oil, you may also find yourself with sensitized, red or irritated skin. Using the right moisturizer consistently will help rebalance, restrengthen, and smooth
Our Oil Free Moisturizing Gel is a great hydrating, refreshing and skin clearing moisturizer.
3. Other Tips To Help Prevent Oily Skin
Beyond the right products and skin care treatments, there are other quick tips that can help prevent oily skin. Used in combination with the above, you will be ready to throw away those blotting papers!
Diet – make sure you are eating enough healthy fats. It may seem counterintuitive, but without the right hydration and lubrication from the inside, skin may produce more oil on the outside to compensate. This tip is also important for helping acne, fine lines, sensitized skin and overall health (interesting article on fats here)
Be mindful of your sunscreen and makeup products. Make sure they are oil free (most sunscreens designed for the face are). If you're doing everything for your oily skin or acne without getting results, try switching your foundation and see if it makes a difference
Avoid touching your face too much as this can transfer oil and grease from your hands.
Some people find it beneficial to wash their hair more frequently as scalp oil can transfer onto face. Changing shampoos and hair products can also help
Environment – if you live in a very humid area or work in a place that has a lot of grease or heat (example: fast food outlet, kitchen, cleaners etc), it can be harder to deal with oily skin. Using the right skin care products as above, especially the Salicylic Daily Exfoliator 2% and a light oil free moisturizer, will make a big difference here