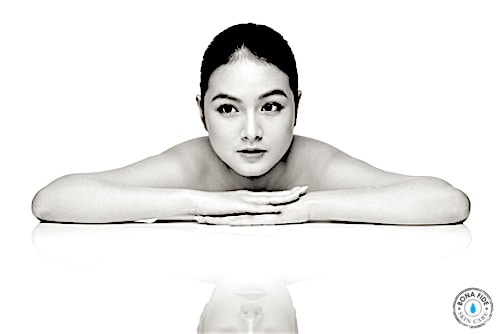 Sulfur might not sound like something you want to apply to your face—it is black, gooey, stinky…
But this smelly gunk is actually one of the best acne treatments. You can use sulfur "pure" or in various skin care products (recommended below).
Let's take a look at exactly how to use it to clear up your skin.
How Sulfur Works
Excess oil production in the sebaceous glands contributes to acne. Sulfur reduces this sebum and dries out skin to help fight against breakouts
It has antibacterial and anti-inflammatory properties that help clear bacteria from pores
Sulfur helps not just to remove the existing bacteria but also prevent it from manifesting on the surface of skin
Sulfur peels away the top skin layer, removing dead skin cells and revealing a fresh, unblemished complexion
How to Use:
First let's go over possible side effects, then get into how to use specific products.
Before using a new sulphur based skin product, it's a good idea to do a patch test as it can cause irritation.
Here is how:
Test the product on a small area behind your ear on your inner elbow
Wait 12-24 hours.
Check the skin for any signs of irritation
If your skin is fine, then you use the product on your face.
Possible Side Effects
There are possible side effects to sulfur but it is a generally safe ingredient. The main side effect is irritation, but you can prevent or lessen this by doing a patch test and making sure you use the right product:
Irritation: Because sulfur is drying and increases the turnover and growth of skin cells it may be irritating and result in flaking, itching or redness.
Unpleasant Odor: Not really a side effect, but the odor is strong and unpleasant—a rotten eggs smell (ugh!). Some products use extra fragrances to reduce or mask it, but consider this a warning about the more organic and "natural" skin care products 🙂
Recommended Sulfur-Based Products:
1. Spot Sulfur Treatment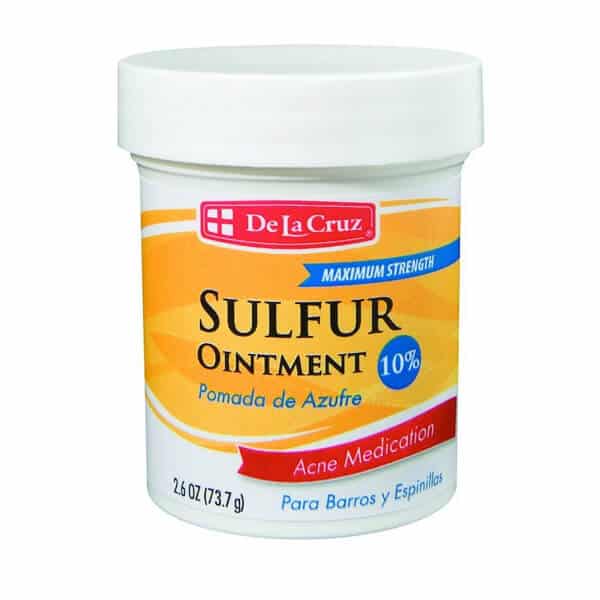 The simplest and strongest of all sulfur products is the pure black stuff. Applied directly onto a blemish this ointment will help combat inflammation and reduce the impact.
Sulfur spot treatments also work for oily areas like your nose. Just be careful to monitor skin and if it starts to become irritated remove immediately.
Using a mask instead is less irritating because they have additional acne-fighting ingredients so they are more mild (see below for recommended products).
2. Sulfur Cleansers
Cleansing is a really important step to treat acne. It's also often overlooked because… well, it is just washed off.
But if you spend some time really massaging it into your skin (at least 5 seconds), twice a day, you might be surprised at the results. This is one simple skin care tip that works!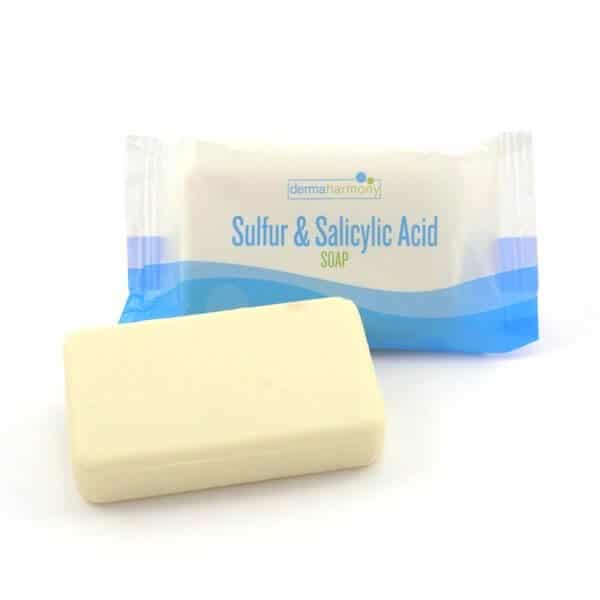 This soap bar also contains 3% salicylic acid which makes it a great body acne treatment. The addition of salicylic acid will dry out your skin more, so it might be too much for your face.
But using this sulfur soap daily as a body wash is great at treating acne on your back, shoulders or anywhere that is acne prone. Plus it's just easy: foam it up in the shower and follow with a gentle body lotion after.
Bonus: you can also use this sulfur soap as a shampoo to help with a flaky scalp or dandruff.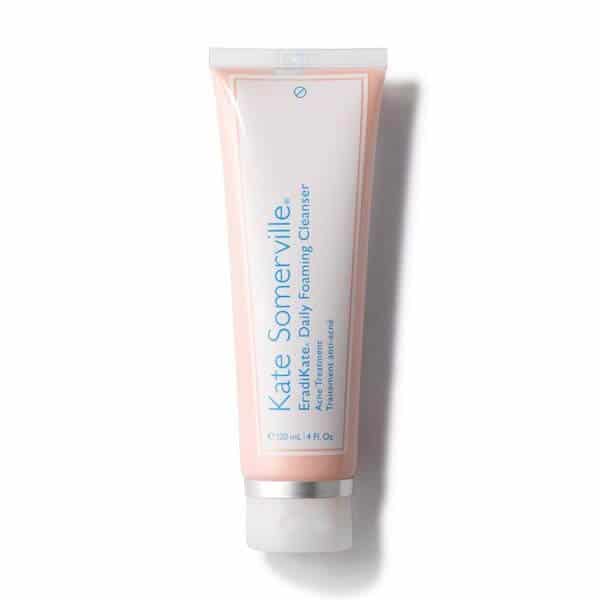 This cleanser includes other ingredients that amp up the acne treatment effects.
Spend several seconds really massaging this into oily clogged areas like the nose, where blackheads and oiliness are common—you might see this area clear up in a week or two.
Sulfur Masks
A great sulfur-based mask usually includes other key ingredients like clay, zinc and tea tree oil.
These all work to treat acne and improve the look of your skin. The two products below are well worth using two or three times a week along with your normal acne fighting routine.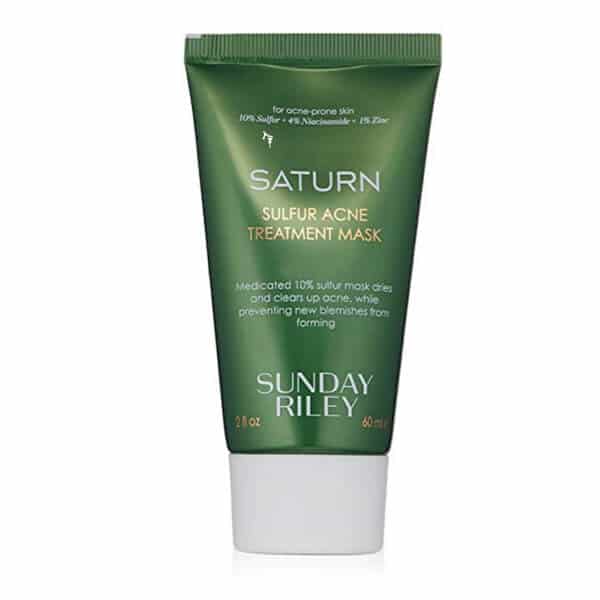 Sunday Riley Mask with 10% Sulfur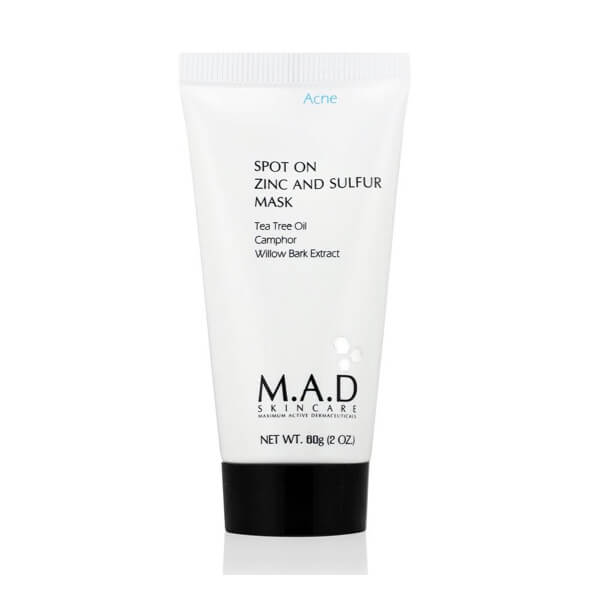 MAD Skin Care Zinc and Sulfur Mask
FAQs About Sulfur and Acne:
How long does it take for sulfur to clear acne?
Used regularly—one to three times a week—sulfur can help clear up moderate acne in a month. It does this by reducing excess sebum production and bacteria on the surface of skin.
After a few weeks as your skin turns over and renews it will start to improve.
But you can also see an improvement immediately. For example: after using sulfur as a spot treatment you may notice the pimple is drawn to a "head", which means it is on its way out!
The swelling and redness (inflammation) that makes acne so annoying and painful is also reduced immediately after use. These quick results are motivation to continue to use it (despite the smell!)
Does Sulfur Help Cystic Acne?
It can. Ichthammol ointment is a cheap, sulfur derived product that is an old remedy for boils. It is also effective at drawing out acne cysts by bringing them to a head, lessening inflammation and healing time.
See this article for details on how to use Ichthammol ointment as a spot treatment for acne cysts and deep pimples.
Does sulfur make your skin purge?
Because it can draw impurities to the surface of skin, you may notice your acne gets worse after the first few uses. This is quote normal (although not necessary), so keep using it and remember the following:
If you skin continues to get worse, stop using the product
This "purge" is really your skin cell turn-over speeding up, so breakouts are coming to the surface faster
If you can be patient it is worth it. You might like to start with only using the product on small areas of your face if this is concerning for you
Can I use sulfur on sensitive skin?
Sulfur is usually safe for all skin types. However if your skin is sensitive do a patch test before use.
Because sulfur is drying you may need to use it less frequently—sensitive skin is often missing that top protective layer of cells and oil. Too many drying treatments can make this worse.
So: if you have sensitive skin you might be best using sulfur as a spot treatment, or a once weekly mask rather than a daily cleanser. Once you have used it you will get an idea of how your skin reacts and can increase from there if you want. Enjoy!