Coconut oil anti aging skin benefits are real. A powerful emollient, its main benefit is a simple one—softening and smoothing your skin.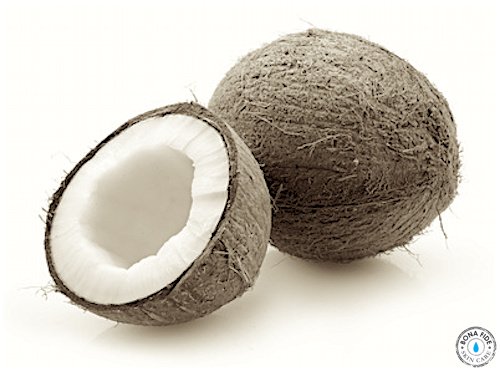 The softer your skin the younger you look, as fine lines don't form as easily and wrinkles appear less obvious.
This page also has 5 of the easiest and most beneficial ways to use coconut oil for anti aging, including the reasons why you should take internally!
Coconut Oil Helps Heal Skin
Virgin coconut oil has been shown to help speed up skin healing (this particular study was on rats…) due to an increase in collagen turnover and antioxidant activity (1).
What does this mean for your skin?
Two of the most important things for anti aging are anti oxidants and increasing collagen turnover!
---
But it isn't a miracle…
---
For a real effect on collagen an ingredient must be able to penetrate skin and have an active chemical reaction (such as stabilized Vitamin C, Retinol, or Glycolic Acid).
But all in all coconut oil is a safe and effective natural treatment that will soften skin and provide some anti oxidant and anti bacterial benefits.
Get the most out of it with the tips below!
---
Coconut Oil Anti Aging
5 Ways to Use it
Coconut oil has great "slip", so a small amount is enough for a great DIY face lift massage.
Use it for a quick facial massage in the evening.
The right moves can provide an instant "face lift", and with the nourishing effect of coconut oil your skin will glow!
2. Coconut Oil For Wrinkles – A Night Treatment
The most simple way to use coconut oil for wrinkles is to massage a small amount onto the wrinkled areas nightly.
This will soften the skin and improve its texture, gently stimulating the blood supply and collagen production.
Apply it after cleansing over top any serums. Leave it on over night and you should wake up glowing!
3. After Peel Treatment
A chemical peel is one of the best anti aging treatments for your skin.
Because of its activity (exfoliation, dissolving dead skin cells and oil, refining the surface layer) a peel can leave skin dry.
An application of coconut oil after performing a glycolic acid peel is perfect. This will replace the hydration, provide protection, and improve healing.
See how to do a glycolic acid peel at home here
4. Internal – Eat It For Anti Aging!
Coconut oil has a lot of benefits when taken internally, and not just for your skin but for health in general:
Taken with Omega 3 supplements it can increase their absorption (Omega 3 are one of the best supplements to take for healthy strong skin)
Coconut oil can improve gut health, and when your gut is better your skin looks clearer, smoother, and younger
Because it is high in good fats it is satiating which can help keep cravings at bay
5. Coconut Oil Anti Aging Body Benefits
Bath time – before soaking massage coconut oil all over your body. This will prevent dry skin, and your skin will be so soft you may be surprised!
Nail care – massage a small amount onto your nails daily. This will make them strong, smooth and shiny. It is also a quick way to make them look polished and "done".
Use it for scar healing – if you have scars on your body (or acne scars on your face) massage a small amount of coconut oil onto the scar daily. Do it for at least 5mins and the scar will soften and become less obvious with time.
Lip balm – lip skin is thin and vulnerable to heat, sun, wind, saliva.. you name it. Coconut oil is a great protectant and healer. Create your own natural lip balm with a recipe like this.
---
Use these easy coconut oil anti aging treatments to get the most out of this wonderful ingredient!
One last tip – use Virgin Coconut Oil for best results as it is highly refined. Available from some supermarkets, pharmacies or Amazon.com*.
---
Reference: (1) Effect of Topical Application of Virgin Coconut Oil on Skin Components and Antioxidant Status during Dermal Wound Healing in Young Rats. Nevin K.G. and Rajamohan T. (2010). Skin Pharmacology and Physiology. Karger.com