Glycolic Daily Exfoliator 7.5% – Ready to get great skin?
Dear Bona Fide Friend,
Thank you for your purchase of our Glycolic Daily Exfoliator 7.5%! Get the most out of your product by following the tips on this page.
There is also a FAQ section at the end…
(There is a lot of information on this page, be sure to bookmark it so you can come back anytime)
---
Our aim is for you to have the best skin possible.
Enjoy your product, and enjoy great skin!
---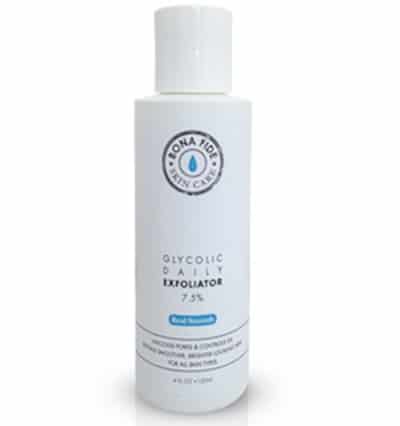 This page covers:
The Basics – how to use and what to expect
Uses for certain skin types and concerns:
Pre-mature aging/fine lines/dull skin
Blackheads, oily and congested skin
"Normal" skin
"Advanced" usage and extra tips
FAQs
---
The Basics: How to use and what to expect
Important points to know when you first start using your Glycolic Daily Exfoliator 7.5%:
It is common to feel a slight "stinging" or tingling when you first start using your Glycolic Daily Exfoliator, however it isn't necessary – it is still working even if you don't feel it. This depends on your skin.
Some people will "feel" it every time – others never – and others only the first few times of use.
Use a cotton ball or gauze pad and apply enough of the product so it is "wet" when you apply it to your skin. Use a gentle buffing motion to apply – no need for pressure – and cover the areas you wish to treat.
At first – leave it on for about 10seconds. Everyone's skin is different but this is a good starting point to see how your skin reacts. If everything is fine, continue to leave it on for this amount of time or increase to 20 – 30 seconds over the next couple of weeks.
What you might notice:
Operative word being "might". Again, everyone's skin is different. You may notice all of these or none – either way this active acid is still working!
It is normal that your skin may become dry and slightly irritated/red in the first 1 – 3 weeks of use. Your skin needs to "get used" to the acid, skin cell turnover is increasing, and good things are happening 🙂
Continue to use it and it will improve – however cut down on frequency any time you need (every 2nd or 3rd night for example)
Your skin might start to "purge" in the first few weeks. This depends on the condition of it to start. Breakouts might come to the surface and your pores may open. Keep using it to help clear this up.
If pores are open and look like they need some help, you might want to gently squeeze them (only if they look like they really want to come out!)
---
Use for certain skin types and problems:
1. Pre-mature aging/fine lines/dull skin
The Glycolic Daily Exfoliator 7.5% helps to speed up cell turnover – resulting in smoother younger looking skin. It removes dead skin cell layers resulting in a brighter, more even complexion.
Nightly use is ideal for this – apply a layer and leave on skin for 10 seconds to 1 minute.
If your skin is dry or sensitive you may like to use it every second or third night.
Any serum or antioxidant treatment you use will work much better after using this exfoliator as the even exfoliation ensures those ingredients will get to the skin cells that need them!
2. Blackheads, oily and congested skin
If you have blackheads or congestion in specific areas (usually around the nose) concentrate the product here.
You can apply the product to your entire face, and apply a second layer to the nose only.
Remember any peeling is normal (but not vital) in the beginning – and this seems to be more common on the nose area. Keep using it and this will improve.
A quick application in the morning before applying make up or simply getting ready for the day will help to reduce the appearance of blackheads and control oil.
3. Normal skin that just wants to be better!
The most important point is consistency.
Some people notice a difference almost straight away in skin brightness and smoothness.
But remember, skin takes around 30days to "renew" itself due to the cell cycle. From this time onwards and especially after 3months of consistent use, your skin will look significantly smoother, clearer, brighter and happy!
This Glycolic Acid Daily Exfoliator 7.5% is such an easy way to get great skin. And if you ever feel like a "boost", just see the tips below:
---
"Advanced" usage and extra tips:
These are optional tips if you have been using this product for a while and you want to increase results:
You can leave this product on for up to 5minutes. Glycolic acid does the most work in the first minute or two, so the returns are slightly diminishing when left on for longer. However, it does make a difference up to this point.
Want to really step it up? See the next tip:
To increase results quickly, layer applications of the exfoliator as follows:
Apply one layer as usual
Wait 30seconds
Then apply another layer.
Leave both on for up to 1 minute (depending on skin), then rinse off.
This is much more effective than leaving one layer on for a longer amount of time.
Skip your cleanser altogether – your Glycolic Daily Exfoliator 7.5% can be used as an exfoliating cleanser – simply buff onto your skin to remove makeup (it is very effective at this) and the days grime. Rinse, and repeat for best results! Do this until the cotton ball is "clean"! Two products in one 🙂
Use your Glycolic Daily Exfoliator before your cleanser – this is an interesting skin care "hack" that can work really well. By using the exfoliator first you remove the top layer of skin so your cleanser can really do a good job! Try it, you may be surprised at the results.
---
FAQs…
Frequently Asked Questions about the Glycolic Daily Exfoliator 7.5%
1. Can I leave this on overnight?
First – Glycolic acid does its "work" in the first few minutes of being on skin, so there is no extra benefit to leaving it on over night.
Second – While the benefits are less after a certain amount of time, it will still be effecting skin mostly by drying it out and possible irritating it. Our product is a strong percentage for OTC and is not recommended to leave it on over night.
If you want to increase the results – it is best to "layer" it (see advanced uses above).
This works really well!
---
2. What's the pH of the glycolic acid?
This product contains glycolic acid at pH 1.5 – 2. This is an ideal pH to give you noticeable results.
---
3. Can I do professional strength peels with this product?
Our Glycolic Daily Exfoliator 7.5% will give the same results as a professional peel, just in a safer, easier, and less intense way (results will take longer).
You can also use it to build your skin up to using a stronger peel – and may use it in between any peel treatments you are doing.
However, it is important to stop using it for at least one week before and after a peel. Also be sure to let your skin care professional know you are using it.
---
4. Can I keep using this forever?
You certainly can! In fact it is recommended because this level of glycolic acid works extremely well as a cumulative process.
The longer you use it, the better your skin. 
It may be beneficial to have a "break" occasionally if you feel you need it. A month or so without.
>> This is also a great way to notice any difference in the health and appearance of your skin once you stop – this can be surprising!
---
Thank you for using our products!
We care about your skin and want to help as much as possible. If you have any questions any time or simply want to let us know how it's going, please contact us!